What does a domain and a cute skirt have to do with each other? Everything …
I am now the proud owner of 
lovespeaks.com
 and I have a cute skirt to thank for it.
Two years ago when I was consulting at TODAY for Megyn Kelly's show, I was seating some audience members just before we went live. One of the audience members was wearing a J.Crew skirt I had been coveting for weeks. It was white tulle and covered in black hearts.
The skirt was in the window at the J.Crew store at 30 Rock and every time my team and I went out to recruit audience members I would see the skirt. And I wanted that skirt. But, I have a similar skirt by Kate Spade, so I practiced control, which is very unlike me, and I did not buy the skirt.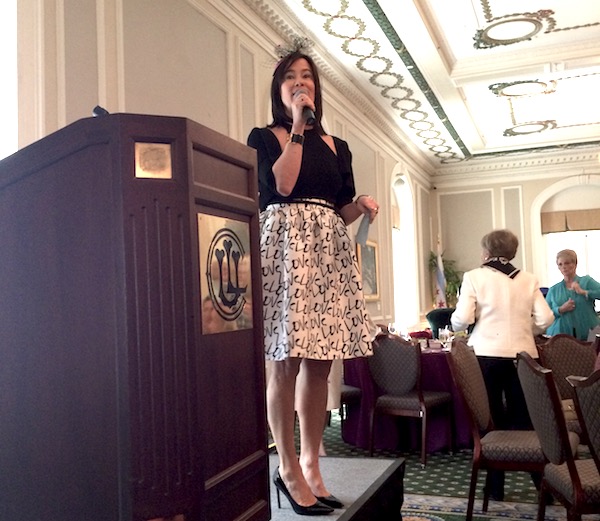 I started to chat with The Woman in the Cute Skirt and because I love compliments, I told her how much I loved her skirt and how much I wanted to buy it myself because my name is Loveman and I'm all about love. I almost told her about my business but I was at my TV job and kept quiet, which is also unlike me.
Then, The Woman in the Cute Skirt, otherwise known as Vanessa, pulled a gift box out of her purse and presented it to me. Inside the box were wooden ornaments in the shape of a heart, a cross, and a yin and yang. Vanessa explained she had started a business making peace ornaments to attach to gifts, favors, trees, altars and anywhere else peace is welcome. Vanessa gave me Peace as a Gift, the very name of her business.
I loved her immediately and thanked her for the beautiful ornaments, which now hang in my home, and then I mentioned I had a friend who makes peace & love pillows and how she would love her ornaments. So I gave Vanessa my business card and asked her to send me details about the rest of her line.
The next day things got weird. Or as I like to say, things got magical. Vanessa emailed me and told me a story that I couldn't possibly make up. When Vanessa got home she told her boyfriend about our meeting. She had clearly seen my site by now because her boyfriend said to her "I know this woman." Meaning me.
The back story is that when Vanessa divorced, she met her boyfriend and was in the process of healing. Her boyfriend used to leave notes all over her house asking her "When does love speak?" It became such a thing between them that her boyfriend decided to purchase a domain in case they ever wanted to do something with their "love speaks game". I called him to purchase lovespeaks.com a few years ago because I didn't own the domain — he did! And that's how the universe brought us all together.
As I begin to look forward to what is next – a book coming out in 2020 and a business I would like to see grow, I reached out to my GoDaddy team to purchase lovespeaks.com. I was finally ready. I told my GoDaddy consultant Ashley the whole story, of course. The story didn't help with negotiating the price and it didn't help with making the purchase, GoDaddy took care of all of that. What it did do was create a story which in turn gives me a feeling of love and thanks.
Our stories connect us and make us better humans. I am so grateful to have met the lovely humans who owned my domain before I did. I could have never planned for the unexpected love and energy it has brought me.
As the new owner of lovespeaks.com I have to say I am thinking so much about Vanessa and her boyfriend and hope they are doing well. Even though their domain is now with me, I hope their "love speaks game" is still going strong.
Never hold back a compliment. Compliments connect people. They can change the energy in the room. They can shift someone's entire day for the better. They can also lead to acquiring the very thing you need the most to boost your business and bring yourself and others joy.
Thank you Vanessa for wearing the cute skirt. I will always be grateful to you and the good old universe!