The day after we recorded today's podcast, my guest and longtime dear friend Kathleen Sarpy was exposed to coronavirus in a meeting. Ten days later, Kathleen shared with me she had tested positive. Ten days later, I shared with her I had too. And just like that, two friends who sat down to talk about kindness suddenly became life lines to each other during an unprecedented pandemic.
Kathleen was the first person I knew who tested positive for COVID-19. I was in shock. I was scared. She was scared. Her first symptoms were a low fever, headache, dry cough, chills and body aches. I immediately started to pray for Kathleen's recovery and for her children and husband to be safe from the virus. One of Kathleen's sons has severe asthma. I prayed so hard for Finley.
Then I called in the big guns, my energy healer Christine. I felt so helpless. I wanted to help Kathleen any way I could. Her texts revealed she was having trouble breathing at night and she was afraid. She asked for prayers and she said she loved me. Isolation makes everything worse. I would learn that later.
On Friday, March 27th, with Kathleen's permission, Christine worked remotely on healing Kathleen. I was so happy when Kathleen told me she felt peace during Christine's healing and suddenly fell into a deep sleep after juggling a week full of fevers and fear about her beloved company. Kindness was at work.
I begin this podcast episode by saying that no one has been kinder and more supportive to me than Kathleen when I started my business. She continues to support me even from her home as she heals from this beast of a virus. I would have moved mountains to help Kathleen if I could. And I know she would do the same for me.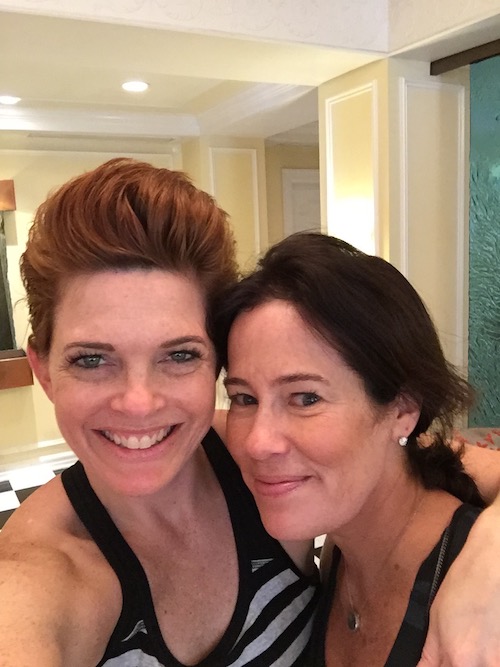 On Monday, March 30th I went for a run. It wasn't much of a run, but what run is at 58? That afternoon I did an Instagram Live with Christine where she shared her prayers for so many people who are suffering and gave a special prayer for artists and the elderly, two groups close to my heart. Kathleen and her daughter Emily joined and I was so thrilled to see my friend return to herself when she sent me pictures after we got off the live.
Later that night, I had my first real sign I was about to have my own fight with coronavirus. I had been complaining about feeling tightness in my chest for a week but honestly, it was hard to differentiate between anxiety or coronavirus. I just knew that anxiety had never felt like this before. I went to sleep that night with a sore throat, which came on fast and furious, and I woke up with all the symptoms – dry cough, heaviness in my chest, low grade fever and body aches. Remember – I had gone on a run the day before! That's how sneaky this nasty virus is.
I was tested, went into isolation and for ten out of the eighteen days I was isolating, I was terrified. Kathleen was right, breathing at night was extremely difficult. I could function almost normally in the afternoon, but once the sun started to set, it felt like my lungs were being strangled and sleeping flat was not an option.
So I didn't sleep – for so many reasons: I was scared, I was alone, I was on a couch (not a bed) and I discovered what Chris Cuomo talked about in the video he released on social media was true – you have to keep moving to get this beast of a virus out of your system. Lying down puts more pressure on your lungs, especially if you are a back sleeper. So the little sleep I got in those ten to eighteen days, was sleep while I was sitting up.
Kathleen and I had no idea how the world was about to change when we recorded this podcast. Of course we knew about COVID-19 and its effects ravaging countries overseas, but knowing about the virus and surviving the virus are two very different things. Here is what I know now having survived the virus – kindness wins, and so does love:
My sister Cindy and her husband Jud gave my family their home in Princeton, NJ for us to shelter in place together. Our girls came from New York City and my husband, son and I drove from Chicago on March 17th. We have spent so much time in my sister's home, but never just the five of us. Her home has now become our home away from home in so many more ways than any of us could have ever imagined. I isolated in what my sister calls "the yoga room." It's a room off the garage which they call "the barn" and is separate from the house. I have stayed in this room so many times with my family during Christmas holidays, but this time I turned the yoga room into my own little oasis. I put copies of my book SPEAK on the shelves, lit a Nest candle and set up a coffee and hydration station to bring me comfort. So much comfort that there were days when I thought about not wanting to leave isolation. I had no idea how much I needed a break.
Nothing like coronavirus to bring out the kindness of others. I have been inundated with love from every person I love in my life, and strangers too. I have talked to friends in the middle of the night and my sweet daughter Carly talked me through a panic attack over the phone during a violent thunder storm. Kathleen coached me through what to expect and how to get through the roller coaster when the virus takes you on a mean and scary ride.
Christine gave me remote healings, visual practices of healing and prayers. My healer Elisa in Chicago sent her special tea remedy and homeopathic supplements. My mom and sisters called me daily. Sometimes hourly. My minister and rabbi texted me. My daughter Marin cooked meals for me and my husband dropped them off at my door, along with my laundry.
When I was tested, I thanked the Urgent Care doctor, Dr. Arjun, and the nurse Jennifer for being so kind and so brave. I sobbed so hard in the car after taking my test that my husband thought I had already received my results. I told him I was just grateful for our health care workers. Their commitment to helping others brought me to tears, as have all the magnificent videos of communities taking moments to applaud their work.
I told my sister's Terminix man Stan (behind my mask and 10 feet away) not to enter "the barn" when he drove up to service the house, even though a mouse had unexpectedly ran by me in the garage bathroom a few days prior. As a legitimate hater of mice, I have to say – coronavirus puts everything in perspective. I'm not sure I even cared about my fear of mice after the initial shock of seeing a mouse scurry by my foot.
Again, I called in the big guns, my Yorkshire Terrier Gracie, and she took care of that mouse within moments of me seeing it, and of course I was a little sad for the mouse.
Kindness means thanking others who are going above and beyond their work. Kindness means keeping people safe, even if it means you might be sleeping with mice. And kindness means staying home!
I am so grateful to my family, which is the silver lining in all of this. When would parents of adult working children ever have four weeks under the same roof? Never. This is the gift. After watching the Schitt's Creek finale alone, while texting my family as they watched in the house, I sent this text to them:
I kind of feel like we are living the lesson of Schitt's Creek – but with a different storyline. Our sudden life change is a pandemic, not a loss of wealth. Our oasis is a beautiful and "boujee" home (my sister's) not a roadside motel. But our storyline is the same, and that is family … under one roof at one time and it could never happen again. How will your character change? How will it grow? How will the family unit thrive? I can already see it happening in each and every one of you, and while I pray every day for this pandemic to be over, just as hard as Moira prays to get out of her small town, I am not looking forward to the wrap party. I will be the one holding onto the circle and not letting go. I will be Stevie.
For all my Schitt's Creek fans, you know Stevie is holding on the most.
So I ask you … how will your character change when you return to life after sheltering in place? How will you grow? Will you invite more kindness into your life? I already know your answer is yes.
My conversation with Kathleen, two friends who would unknowingly save each other during a time of uncertainty through kindness, is just a reminder. Kindness wins. And so does love.
Helpful Tips/Links if you test positive for COVID-19:
Don't spend your day in bed, stretch and stay as active as possible in the space where you are isolating
Get sunlight if you can. If you can't go outside, open your window.
Zinc drops
Vitamin C & D
Sleep on your stomach or propped up
Meditation, visualization, prayer
Consume positive content
Rest
Write your story, the best remedy for isolation, pain and fear
(Please note, these tips are based on my own personal experience.  Be sure to follow your doctor's advice.)