Before we love our story and speak our story, we should know how to start our story. So here's my challenge: How would you start your story in 10 words or less? What are the words you would choose to capture who you are and the purpose of your life? It's a little daunting to have to catalog everything we have ever done in our lives and come up with a snappy sentence that sums us all up. But, if we don't have a start our story, how will we speak our story? I start mine with "Accept invitations from your mother."
I created this campaign on Instagram @livelovespeaks and featured 8 of my favorite women because 8 is my favorite number. Here is some inspiration to help you start your story in 10 words or less…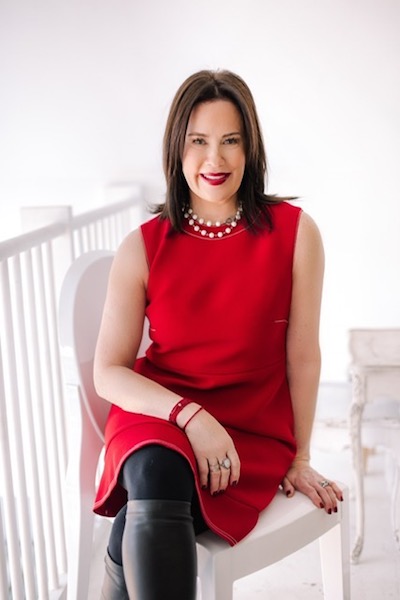 "
Accept Invitations from Your Mother!

"

Kicking off How Would You Start Your Story is me – the love of lovespeaks! I challenged 8 women friends with this question: How would you start your story? – in 10 words or less – and I can't wait to share their stories with you! Studies show that storytelling makes us better humans, and we all want to be better humans, don't we?

Join me in this challenge and tell me how you start yours! Here's how I start my mine: "Accept Invitations from Your Mother!" It's so easy for us to say no to invitations from people who love us, because we know they won't stop loving us if we say no. We don't always want to say yes to things that take us out of our comfort zone or pull us away from Netflix! But what if the invitation you say no to is the one thing that would change the trajectory of your life? The one thing that could lead you to start your story? Saying no is like saying we don't care about our story, so say yes! It doesn't matter what age we are – we are never too old to discover the start of our story! And it's ok to have many starts. I was 14-years-old when I said yes to my mother's invitation to the taping of a television show. As I sat in the studio audience, I spotted a girl on the set with a clipboard. I didn't know what she did, but I knew in that moment I would do it one day too. I just had no idea it would be with Oprah ! As a storyteller and speaker, I would be lost without my story. It's my comfort, my joy and my security. Even the ugly parts. Our stories are what connect us. They remind us we are more alike than we are unalike, which gives us all permission to own, love, write and speak our stories.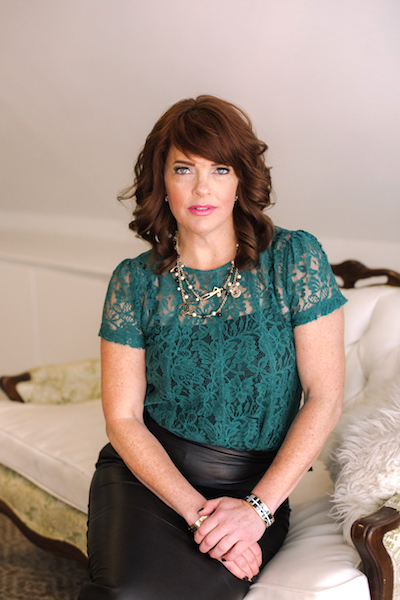 "Always Lead with Kindness."
Kathleen Sarpy is a mother of five and founder and CEO of AgencyH5 – a marketing and communications agency in Chicago. Kathleen starts her story with: "Always Lead with Kindness." Kathleen's success comes from kindness. She is kind to herself, which makes it easy for her to be kind to her kids, her clients, her staff, her family, her friends and strangers. She is big on inclusion and is a shining example of what happens when women support women – kindness flows! I will never forget the moment when I was standing in the United Center preparing for Oprah 's 25th Surprise Spectacular and realized we needed a seat filler for Oprah. We had a million moving parts in a short amount of time and it dawned on me that we needed someone to sit in for Oprah while she was on the stage – next to big name celebrities! That's when I turned to my teammate Dana Leavitt and said "Get Kathleen Henson on the phone and see if she will be our seat filler!" Without even considering the fact that Kathleen runs a big company with a long list of clients, and more than likely had a jam packed day, I acted like this was a totally normal ask. And sure enough, Kathleen showed up, looking gorgeous as usual, and played her part with her professional kindness that she has built her business on. She never mentioned the hoops that she had to jump through in order to show up on time and camera ready. She just smiled and said "I'm ready!" No one has supported me more than Kathleen Henson in my business and for that I say THANK YOU Kathleen for being so kind! How do you show kindness?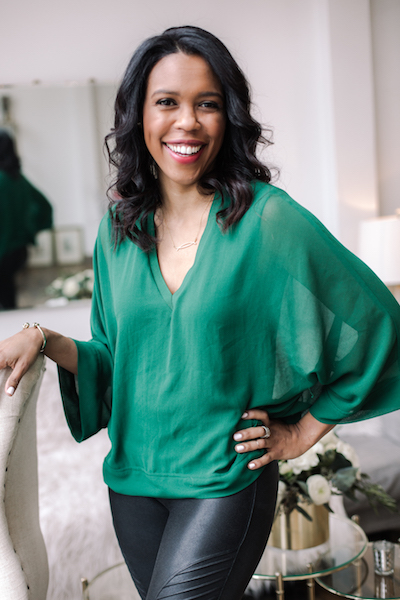 "
Everything is figure-out-able!

"

Jill Frank is a mother of two and head of content production at Epsilon Hatchery – a global leader in creating connections between people and brands. Jill starts her story with "Everything is figure-out-able!" A lover of the words how and why, Jill enjoys the process of figuring things out, which makes her perfect in her role as producer. She makes things happen and says "Producing is like a love letter to creation." I met Jill at The Oprah Winfrey Show where she was a promos producer. I instantly liked her because she immediately makes people feel comfortable and she also appreciates a good laugh, which I love about her! Jill reminds us that "Humor is a great way to break down barriers and get people comfortable, we aren't taking ourselves too seriously when we're laughing!" Music to my ears!

We both served on an employee council at work and I remember in one meeting suggesting that we learn how to meditate. We didn't even have time to pee, let alone meditate! But Jill shot me her megawatt smile and made me feel a little less crazy! A few years later, we were given the gift of transcendental meditation training from our extraordinary boss and leader Oprah, proving that everything is figure-out-able! Jill approaches the world with curiosity and is open to new possibilities every day, which is why she is one of my Favorite Eight stories to share with you! What 2 words are your favorites?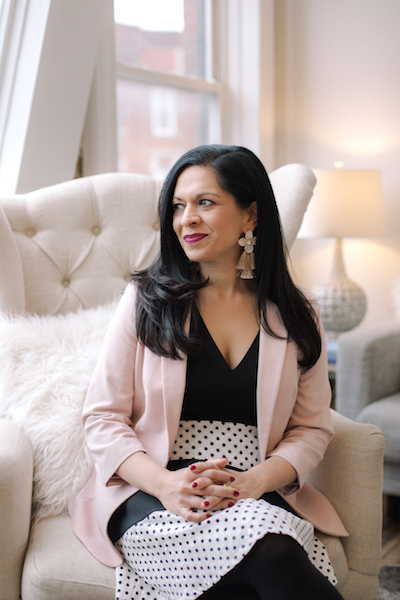 "
I love love, I love people, and I love helping people find love!

"

Bela Gandhi is a mom of two and founder and CEO of Smart Dating Academy – a date coaching service that helps thousands of singles find happy love. Bela starts her story with "I love love, I love people, and I love helping people find love!" (I gave Bela three extra words because I'm a sucker for love.) The Today Show calls her "Cupid for Hire" and Steve Harvey calls her "The Fairy Godmother of Dating." I call her my fabulous friend!

I met Bela at a dinner Kathleen Henson invited us to for Carol Bernick Lavin's Gather As You Go book launch, another woman with an inspirational story and former CEO of Alberto Culver, turned author and gatherer of phenomenal women.

Bela came right up to me and said "Hi Sally Lou" and it was love at first sight! Bela is known to have a 6th sense about people and she was flexing her talent with me – total love! 
Prior to starting Smart Dating Academy, Bela was a top executive at AkzoNobel , a large multinational corporation that focuses on chemistry, the science kind! Having always had a talent for connecting people, Bela shifted gears and decided to use her love of chemistry in a whole new way – the chemistry of people! 
Her warmth and insight makes searching for love fun, efficient and most importantly successful! Bela's love for love and love for people make her absolutely the perfect person to help others find their love story. Anyone looking for love need only to look for Bela! Her smart take on love makes her one of my Favorite Eight women who inspire me to do what I love! 
What is your talent and how are you using it to do what you love?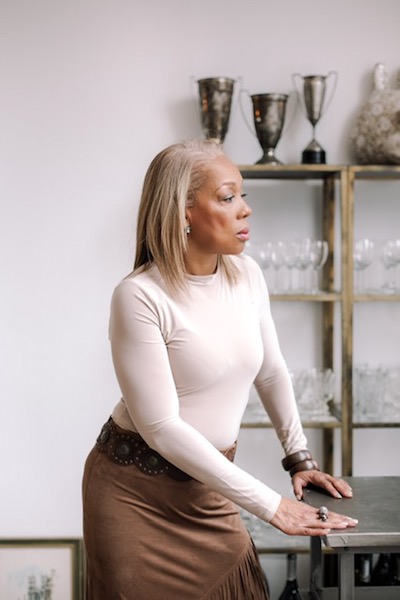 "
My eggs are in one basket because my basket's good.

"

Rita Coburn is a mother of two and a creator, director, writer, speaker and founder of RCW Media Productions. Here's how Rita starts her story in 10 words or less "My eggs are in one basket because my basket's good." Rita is the most confident woman I know and trust when she says her basket's good! 
We met in the early 90's when we worked together at a talk show (not Oprah ) I was a producer and she was my associate producer, which makes absolutely no sense since she's the wiser one! Rita's deep connection to the women who came before her is palpable. Can't you see them in this photo? She is definitely an old soul which I just love about her. She is also the best speaker and storyteller I know. Rita tells it to you straight!

After working a 12-hour day, we would drive home and pick up our house phones and talk for another 2 hours. We never ran out of things to say. We still don't. This was before cell phones when people had conversations! Today I still prefer a Rita conversation over a Rita text because no one delivers a line like Rita.

We were reunited at Harpo when Rita became Dr. Maya Angelou 's XM Radio producer. We used to talk about how this generation of women were about to be gone and how Rita was the woman to tell Dr. Angelou's story. In 2017 Rita produced and directed Still I Rise – a magnificent documentary film that tells Dr. Maya Angelou's story. If you haven't seen it, it's a must-see.

No one is more confident about her basket than Rita, which is why Rita's story inspires me. How is your basket? Are you all in too?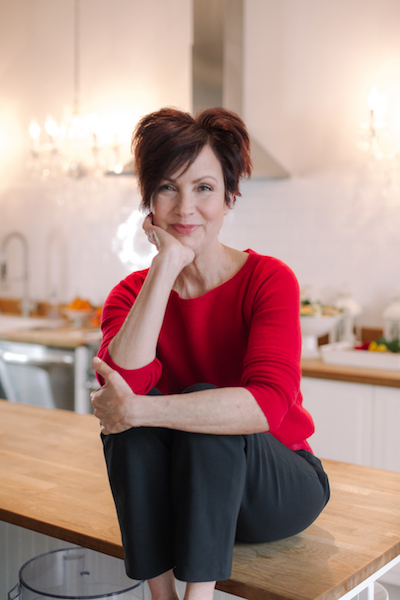 "
Stand up and Step Up for what you Believe in.

"

Introducing Vicki Reece, mother of three and founder of Joy of Mom where she unites millions of moms to help navigate, celebrate and love motherhood. Vicki starts her story with "Stand up and Step Up for what you Believe in." This tiny package of WOW packs a mighty message for moms! Her reach through Facebook, Instagram, live streams and coffee chats is huge – like 46 million engagements huge, and growing! Of course I met Vicki through Kathleen Henson because everything fabulous leads to Kathleen. Vicki created this community of moms as a place to stand up for each other and champion each other, never against. She is thoughtful, funny and real while always reminding moms we are in this together. 
Vicki says motherhood is universal, but Joy of Mom is different. "We aren't discussing what it means to be a mother. We talk about how it FEELS to be a mother. Whether you are exhausted, honored, annoyed, enraptured, uncertain, scared, joyful, full, empty, stressed, charged, proud, worried or a mix on any given day, you have a voice here." Vicki's unique ability to connect on a deep level with so many moms is why I want to know more about her and her story. It's always nice to know someone's got your back! Who has your back?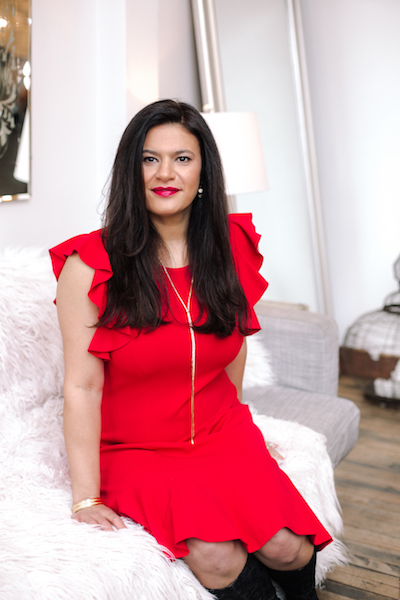 "
Empower the youth to lead from within.

"

Mona Antwan is a mother of two and founder of Mindfulness Leader – a not-for-profit dedicated to transforming the city of Chicago's youth. Mona has been practicing mindfulness for 19 years and here's how she starts her story "Empower the youth to lead from within." Mona was an accountant at Harpo and I was immediately drawn to her because she likes saving money as much as I love spending it! Her mindfulness around money is something I benefit from. Plus, she's fabulous and tells it like it is so she's my kind of girl.

I could always find Mona in the meditation room and our shared love for mindfulness and transcendental meditation drew us closer. After the show ended, Mona shared with me that she wanted to start a mindfulness program for students. We talked a lot about it and having started my own LLC, I encouraged Mona to go for it.

Mona has a powerful story. She emigrated from Baghdad, Iraq in 1980 with her parents and siblings. She says not knowing the language and adjusting to a whole new culture was extremely difficult at 6 years old. But by the 3rd grade, Mona was speaking English and advocating for all the other kids from other countries who were not catching up with the language like she was. That's when she knew that being an unseen and unheard child was preparing her for a lifetime of service and she made a choice to lead from within.

Mindfulness Leader is an innovative project based course load with 23-core principles that include invaluable life skills like personal confidence. Students get direct access to resources that bring balance to their lives and the power to be the best versions of themselves. My prayer is that Mindfulness Leader, which has been recognized by the White House, will be a program offered across the country to make lasting changes in the lives of our youth. I'm so proud of my friend Mona, who I like to call Money!! How do you practice mindfulness?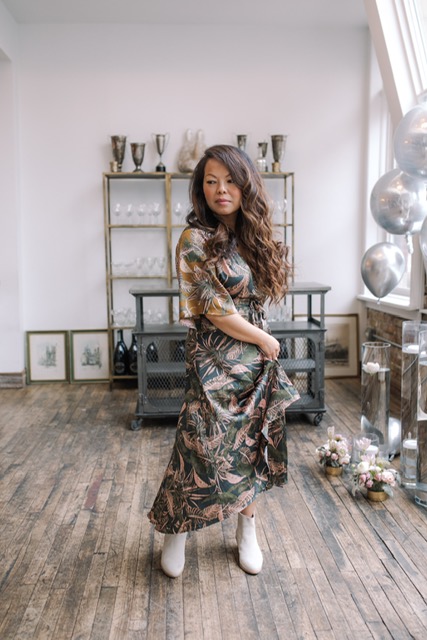 "
A lover of the not-so-obvious and creator of the not-so-complicated.

"

A self-described creative doer & explorer, Maleesa starts her story with "A lover of the not-so-obvious and creator of the not-so-complicated." What is obvious to me is that she is beautiful inside and out and I would like to live inside her instagram account! It's a place where beauty lives, peace is felt and cool people, places and things are discovered daily. It's also Maleesa's life, which is why I am drawn to her story. Her love for the not-so-obvious is apparent in her ability to walk down a beach and find handfuls of sea glass, while others would never see it. She can spot a rock shaped like a heart easily and I'm certain she has a direct line to Mother Nature because beauty attracts beauty.

Maleesa can make anything pretty. We first met when our kids were in the middle school play. It was my first time as a theater mom and I was enjoying the moment. I confidently walked in on opening night with my grocery store bought flowers and saw Maleesa had arranged simple bouquets that were works of art clearly made with love. I ditched mine and bought hers and was so happy for the upgrade. That's what Maleesa does, she upgrades the not-so-obvious and makes beauty uncomplicated. Skills I wish I had! Who reminds you to look for beauty in the not-so-obvious?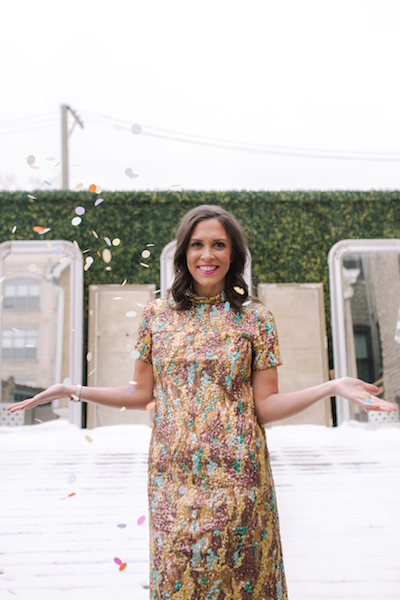 "
A Girl with a Dream Turned Woman on a Mission.

"

Here's how Whitney Reynolds starts her story, "A Girl with a Dream Turned Woman on a Mission." Whitney Reynolds is a mom of twins and host & owner of The Whitney Reynolds Show on Lakeshore PBS. As a young girl, Whitney used to pretend she was a talk show host and would interview her dolls in her bedroom. She literally turned her childhood dream into a reality. In 2009, I was on the stage warming up the audience for Oprah's flash mob dance on Michigan Avenue in Chicago when I heard a girl scream from the audience, in a distinct southern drawl, "I'm gonna be the next Oprah Winfrey!" I remember looking at this bold girl, and while I didn't know her then, I believed her and I said "Yes you are!" That was 23-year-old Whitney Reynolds, speaking her story and about to make it happen. Today, the Emmy nominated talk show host is dedicated to provoking positive change through tough topics on her talk show that she hosts AND owns. Sounds like Oprah to me! Whitney also hosts inspiring segments on iHeartRadio and is a columnist for Chicago Woman Magazine where she uses her voice for change. There is no stopping her, which is why Whitney Reynolds is one of my Favorite Eight women who share how they start their story. How would you start yours?
Now it's your challenge to start your story in 10 words or less! Think about the moment that changed everything for you. Start there. And if you are having a hard time finding a start, accept the next invitation you get from your mother or anyone who loves or likes you. You may just find the start to your story.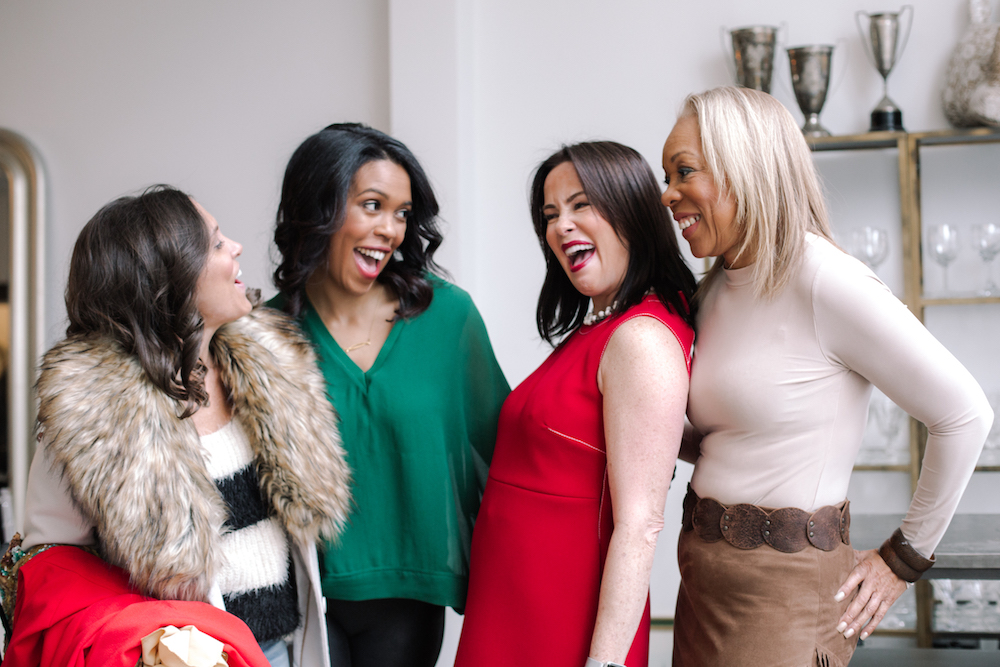 Photography by Jules Kennedy