I love when I feel an immediate connection to someone.
The energy of connection literally fuels my heart, my spirit and even my work. When Catherine Grace O'Connell called to ask me to be a part of her #Fierce50 campaign, my connection bells went ding ding ding ding ding! I could literally hear them ringing!
Catherine, @catherinegraceo on IG and the woman behind catherinegraceo.com, is a personal stylist, lifestyle and fashion blogger, influencer, Lyme disease survivor and mother of two who likes to turn everything inside out. Her purpose is to encourage and inspire women and get us all living from the inside out, no matter what our age.
In less than 30 seconds Catherine had already done her job. She had inspired me! We were suddenly speaking the same language – meditation, Reiki healing, yoga, fashion, living from the inside out, doing what we love and WAKING UP. And like so many women in midlife, we both shared that we had faced adversities in our 50's and discovered that waking up was our only way out.
"Waking up was our only way out."
After leaving her marriage, Catherine was diagnosed with late stage Lyme disease and almost lost her life. We asked each other "Why is it that we have to fall apart in order to WAKE UP?" Catherine's response, "It's almost a way of the Universe forcing us to turn within and shine a light on those dark places inside of us."  Ding ding ding ding ding! There go those connection bells again. Ah yes, the dark allows for the light.
So why is it that we often wait for the dark to come before we can see the light? This is something Catherine wants to change. She wants to help women wake up before the crisis. When I asked Catherine what makes her most proud of the personal work she has accomplished, she shares "I allowed every adversity to open my heart." And that is when I knew our connection was the real deal.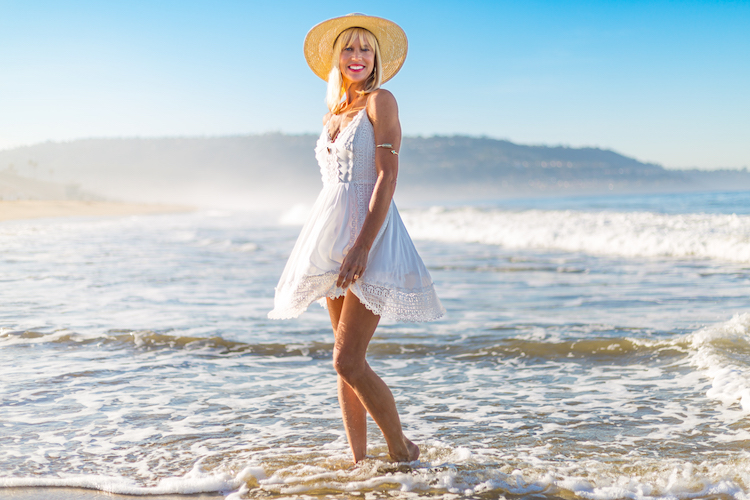 "I allowed every adversity to open my heart."
I'm pretty sure this is the great lesson (and gift) of 50. Our 50's are a time we become more like ourselves and stop caring about what others think of us. It's also a time for connection and collaboration. A time to let go of the stuff that just doesn't matter. A time to be bold and live with an open heart. A time to be WOKE – a familiar phrase said over an over again at The Women's March.
It's funny, Catherine and I lived in the same community outside of Chicago for over 20 years, and never crossed paths. Maybe it was because we weren't awake yet! Or maybe it just wasn't our time. Whatever the reason, I must have been sleep walking through life because it's not like me to miss a spirit like Catherine who happens to defy age and beauty.
I love how Catherine speaks about her career "My personal styling business is more about assisting women to see their inner beauty, what I often refer to is helping women to put on their 'infit' before they put on their outfit. It is those inner resources that are immensely powerful and what ultimately determines a woman's strength and beauty."
Which is why it's no surprise that women who overcome adversity and have a strong sense of self and faith, inspire Catherine the most. And more than likely, these are the women who inspired Catherine to come up with #TheFierce50 Campaign.  Like all great ideas, this one came to Catherine during a yoga class. Her thought was to bring together 50 women bloggers over 50 on the 50th day of the year to celebrate midlife and remind the world that 50 is powerful, 50 is cool, 50 is fierce.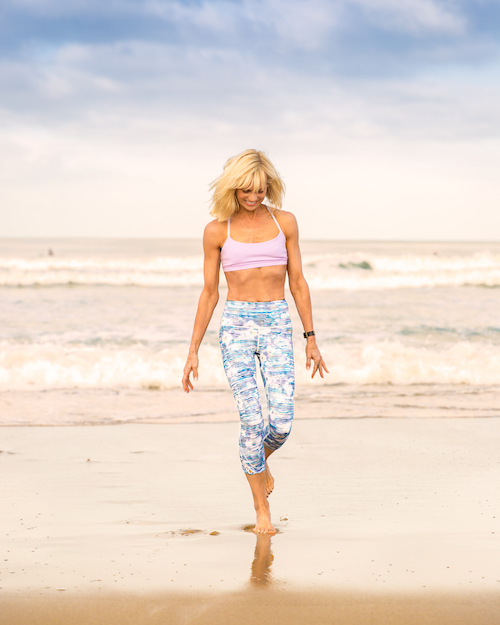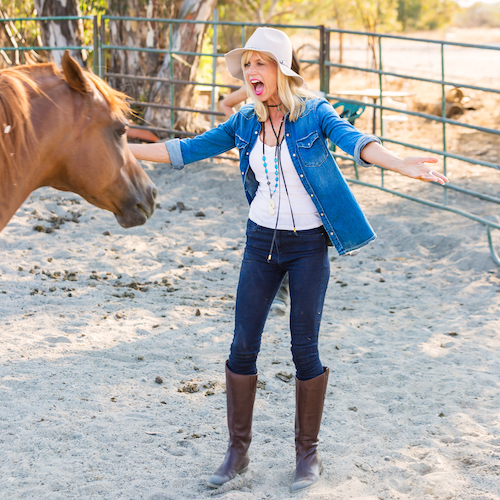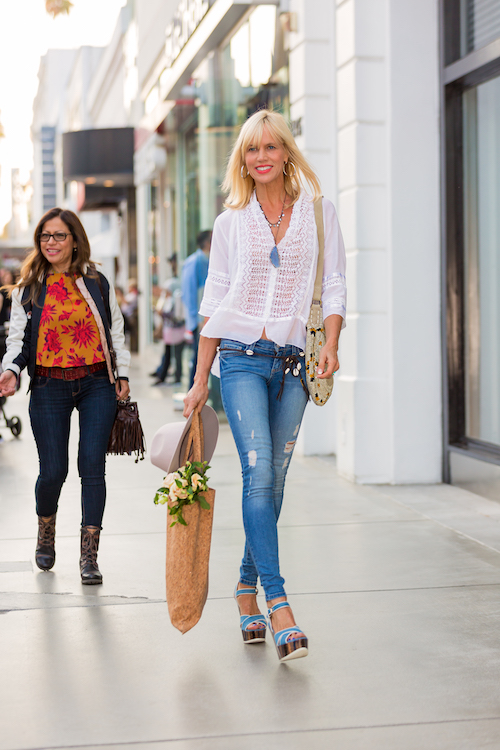 50 is powerful, 50 is cool, 50 is fierce.
Today, Catherine's mission to shift the paradigm becomes a reality with the launch of this campaign. "As women in our 50's we have changed our reality, now we have to shift our perception." Big announcement to women in their 50's – Catherine's got your back! With only three or four hours of sleep a night, Catherine does not intend to rest until she helps to bridge the gap between women in their 50's and women in their 20's and 30's and 40's who will one day be 50. Her best lesson, "We are built for connection, collaboration, and communication." So let's do this! Let's make this happen.
Fifty-four years later, Catherine has the confidence she's always been searching for because her inner qualities reflect her outside qualities. She's wearing her "infit" like a BOSS and I am so grateful to her for making sure other women don't have to wait this long to own their own "infit." The time is now to wake up to a new way of living – to start from the inside. Because 50 is coming no matter what and Catherine wants us all to be ready.
To find out more about Catherine and the rest of #TheFierce50 check out Meet the Women of the Fierce 50 and The Fierce 50 Campaign and join the movement!  My beautiful partner wrote about me in her blog post, Sally Lou Loveman: LoveSpeaks Fiercely and I am forever grateful.  Don't miss the Thrive interview with the fiercely fabulousHannah Storm.  And finally, a big thank you Beth Briggs Illustration for your talent and thank you to our sponsors listed below.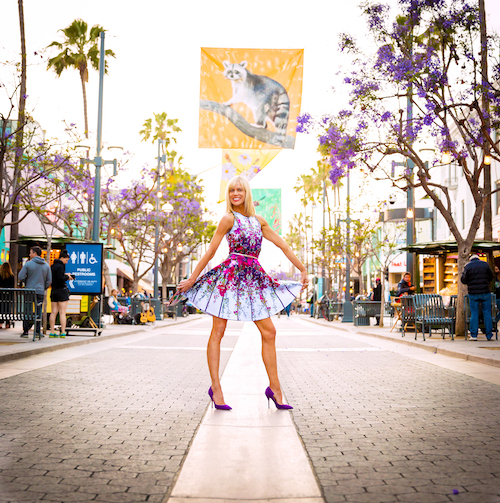 The time is now to wake up to a new way of living – to start from the inside.
A BIG thank you to #TheFierce50Sponsors: